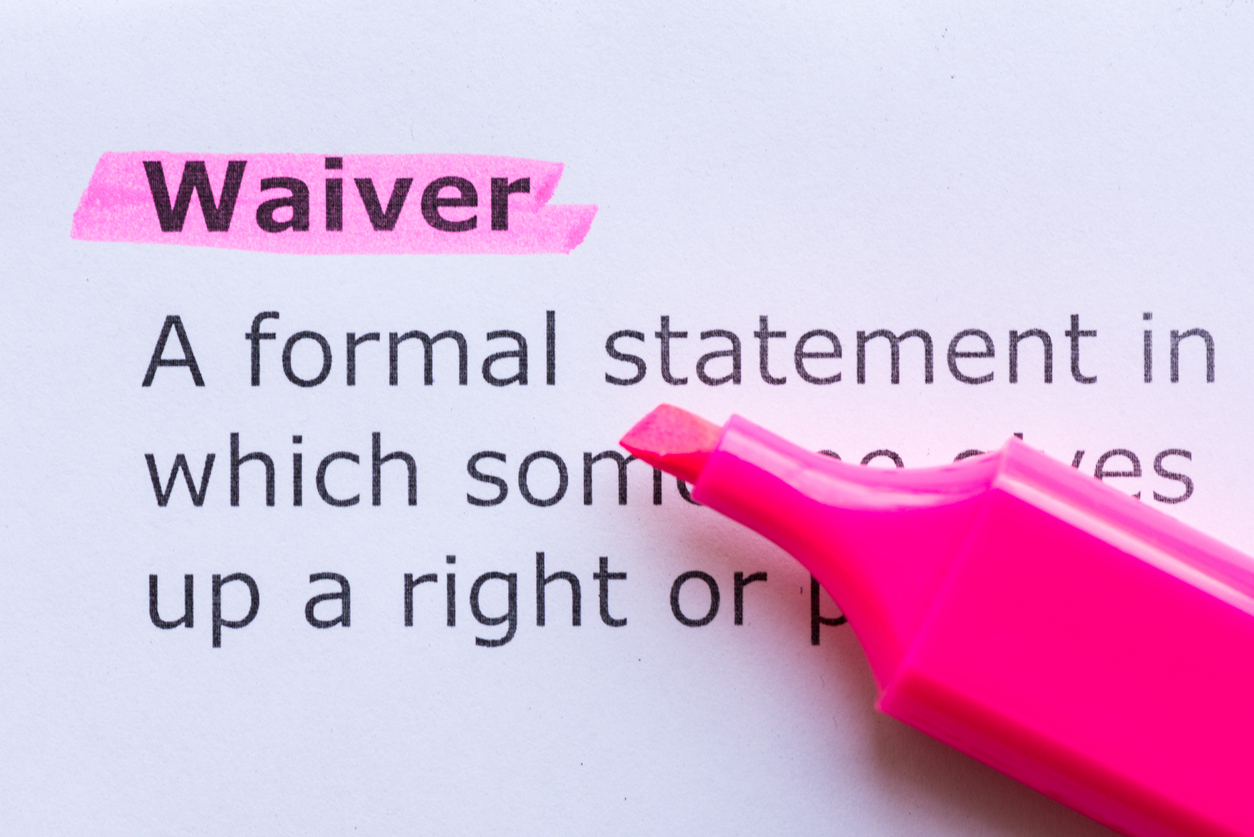 All vacation short term rental (AirBNB, VBRO, etc.) guests should sign a waiver of liability agreement.
Insurance, cameras, guest screening; all are great tools to help lower the potential risk of liability in running a short term rental. However, the waiver of liability is a another important piece for helping assist in achieving not only liability protection but other goals;
Potential protection if a guest files litigation against you.
Deterrent for a guest to even consider filing litigation.
Screening opportunity to weed out the wrong type of guest to book your short-term rental.
How do you get a guest to sign?
We put into our listing description, clearly, that you must sign a waiver of liability if you book the rental. This is important to avoid guests not wanting to sign. After they book we send a direct message asking them for their e-mail address to e-sign the waiver. Once they send it, we send them the agreement via HelloSign.com. We have used HelloSign.com for many years without fail. We have a template ready to go and rarely does the e-mail to the Guest get flagged as Spam. DocuSign.com is another reputable one.
The guest gets a brief e-mail with a link like below. Once they go to the webpage, it prompts them for signature. Takes just a few seconds for the guest and requires no account creation or login.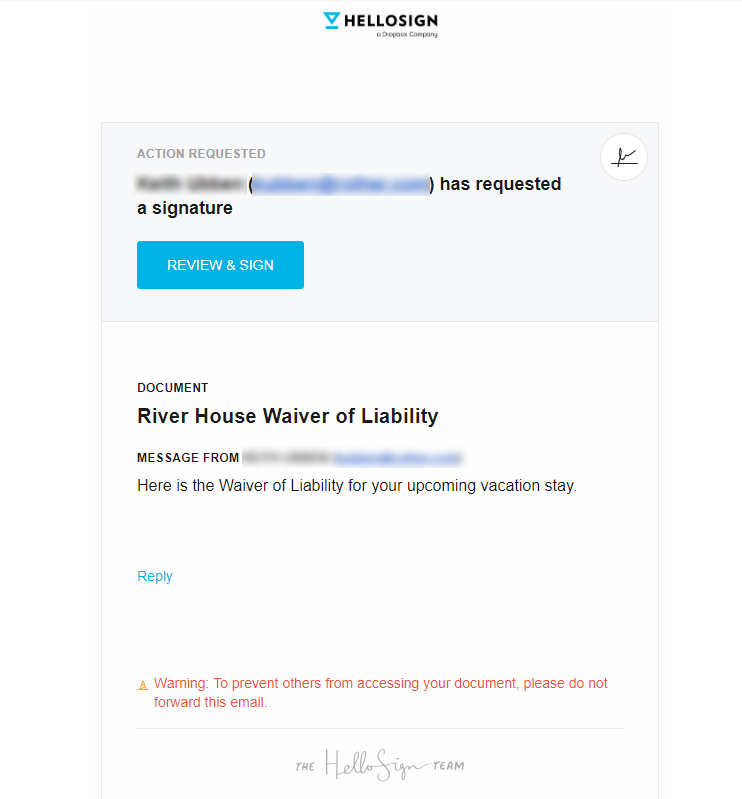 I'm worried guests will not sign it or not book because of it.
Each vacation home is different but we have yet to have any problem with getting guests to sign. We have never had a guest ask to see the waiver before booking either. Only a single time in hundreds of bookings did a guest refuse to sign it. This guest also refused to cancel the booking. In that case we contacted AirBNB and told them it was required as per the listing statement and that the guest was refusing to sign. Airbnb cancelled the reservation so we didn't get penalized. We were happy too because during the process the guest had all the markers that they would have been a problem anyway.
What waiver should I use?
Nothing in this article should be construed in anyway as legal advice or opinion. If you want a waiver, contact a licensed attorney to have them write one for you. For transparency and to get an idea of what a waiver is, this is the one we use. We provide no guarantee in any circumstance it's what you need or would satisfy any legal needs. Use at your own risk.
YOUR_PROPERTY_ADDRESS Release of Liability

Please be aware that in being a Guest at YOUR_PROPERTY_ADDRESS, you do so at your own risk. Please sign this Release From Liability, thereby indicating that you and all the members of your party agree to release and hold harmless its owners, agents, and other guests from any liability.

Release From Liability

I, the undersigned (hereinafter "I" or the "Guest") understand that by granting my party permission to enter YOUR_PROPERTY_ADDRESS (also referred to as the "Property") for both normal use and recreational activities, neither the owners of the Property nor their agents are: (1) assuring me that the Property or equipment is safe for the particular activities in which I plan to engage; (2) obligated to take more care regarding my safety than they would regarding someone without permission to enter the Property; or (3) assuming responsibility for any injury to any person or property caused by me while on the Property. I understand that "recreational activities" in this release includes, but is not limited to: fishing, swimming, boating, camping, hiking, water sports and any other activity associated with enjoying nature or the outdoors.

I agree that it is my responsibility to inspect the Property and surrounding areas upon entering and continuously during my stay and to avoid any area, activity which I feel to be unsafe. By signing this waiver, I hereby acknowledge that my participation in activities and use of Property is at my own risk, & that I assume all responsibility for any & all aspects of my participation and use as well as for the protection and supervision of any minor children under my care while at the Property.

I hereby irrevocably & unconditionally release, & agree to indemnify & hold harmless from liability & covenant not to sue YOUR_PROPERTY_ADDRESS's owners and agents from & for any & all liabilities, claims, actions, damages, costs, or expenses of any nature whatsoever whether in law or equity, known or unknown, occurring during, caused by, relating to, or arising in any way from my participation and use, as well as all members of my travelling party's participation and use, of the Property and recreational gear or the participation of any person accompanying me in activities at YOUR_PROPERTY_ADDRESS.

I understand that this Release from Liability irrevocably & unconditionally releases and holds harmless YOUR_PROPERTY_ADDRESS 's owners and agents from any financial or other liability for any injury, bodily harm, sickness, illness, or loss of life that I or any person accompanying me on the Property may suffer, and from any economic harm or loss of property occurring during, caused by, relating to, or arising in any way out of staying at YOUR_PROPERTY_ADDRESS.

I understand and agree that this release is to be construed under the laws of the state of YOUR_STATE regardless of conflicts of law or principles, and that the venue for any dispute related to or arising out of this release is in YOUR_COUNTY County, YOUR_STATE.

I, the undersigned, have read this Release from Liability & understand all of its terms; I have executed it voluntarily, with full knowledge of its significance, & intend to be legally bound by it.

Signed: ________________________________________

Printed Name: ________________________________________
Direct Link to Download Short Term Vacation Rental Waiver
Click here to download the free short term vacation rental waiver agreement